A Range of Success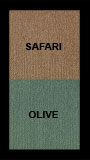 The Overzone can trace its ancestry through a pedigree range of tents. As an evolution of the successful Overland, it's the largest tent model in the "fold over" range. Compared to the Overland, there's more internal space with total protection from the elements, including the main entrance doorway. The Overzone meets the most demanding requirements of the adventure traveller offering total privacy and freedom.
At the heart of the Overzone is a strong, lightweight aluminium frame, encased in breathable, water-proof 420g heavy duty cotton fabric in keeping with the world renowned Autohome tradition, whilst creating a new era of user friendly features.
The striking appearance is due to a well-proportioned, streamlined design, making the Overzone a perfect solution for people wanting to explore imposing landscapes, where adventures occur every day.