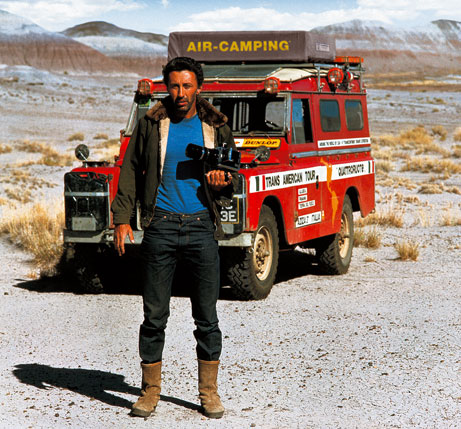 "My name's Nino Cirani and
I work as a photographer"
Nino Cirani was born in Modena in 1926.
Although he graduated in Architecture, he was renowned as a photographer, journalist, explorer and protagonist of car rallies around the world. Eating up thousands and thousands of miles, from the deserts of the Sahara to the forests of Amazon, in extreme and sometimes very dangerous conditions, he became a legend to all Land Rover drivers.
Throughout his journeys his travel companions varied, but there were two constants that never changed: his unstoppable Land Rover, named "Aziza", and his Air-Camping tent. Thanks to the experiences and suggestions of Nino Cirani, the Car-Top Tent is now a state-of-the-art, ergonomic, comfortable and practically indestructible tent.
Today Autohome honours Nino Cirani with the tent that has been with him for 30 years, with the same colours and the same technical innovations adopted by the man who made it a legend.


| | | |
| --- | --- | --- |
| Aziza 3 in the Panama forest during the attempt to cross the Darien Gap | India Karaja from the Araguia river in Brasil | Conso girl, Ethiopia |

| | | |
| --- | --- | --- |
| Indian women of the Bolivian plateau | Cheetah of the Ambesoli valley, Kenya | Off-road vehicle in the Peruvian desert |

| | | |
| --- | --- | --- |
| Lions of the Serengeti, Tanzania | Indian women of the Bolivian plateau | Maya rests at Chichen-Itza, Yucatan, Mexico |