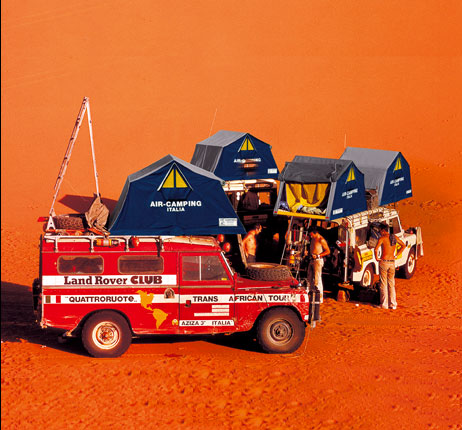 "The big dazzling open space: the Desert, where the wind sometimes blows so hard that, mixed with sand, it succeeds in grinding the windscreens of cars"
Where the sand dunes with their marvellous squiggles disappear beyond the horizon, under a hopeless and merciless sun, that hard, demanding nature, where everything is strictly motionless and essential, made me feel perfectly at ease, as if I was born and
had always lived there..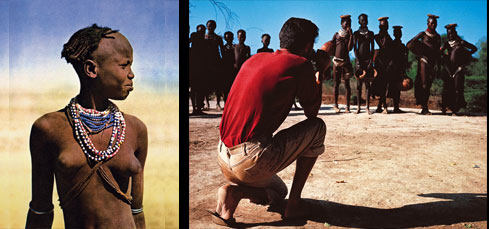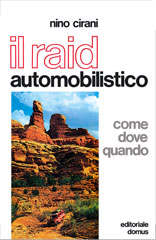 Nino Cirani published several photojournalist reports in the most prestigious magazines.
In 1973, he published his experiences "The Car Rally; How, Where, When" (Domus Publishers - "Il raid automobilistico. Come, dove, quando") a handbook full of suggestions, explanations and drawings to prepare for an adventure raid in the best possible way.
The equipment was prepared with the utmost care: including his Land Rover, where all the mechanical components and tanks were protected by means of metal plates, fabricated and modified by himself in the machine shop of his friend Amedeo Gaiani in Milan.
In the book, Cirani describes at great length how he used to prepare his car and the equipment required for the expedition or rally: The roof tent is defined as decidedly better than any traditional product.
Everything could be found in "Aziza": Tools, cooking utensils, additional fuel tanks, a small fridge (to preserve photographic films), one hatchet, one pickaxe and one shovel. Also one machete, one rifle and one hand gun.
In the images you can see Aziza 3, on which preparation work took 1.500 hours.
A sand storm caught us off our guard.
We could no longer see anything and when, finally, the wind stopped blowing,
we had to clear Aziza that was almost covered with sand. It had been a hard,
very hard journey, but now, in my memory, it remains the most beautiful
I have ever made.
One day, in the desert of Nubia, on the track to Abu Simbel, I crossed an enormous
truck of the Egyptian army.
The soldier, who was driving, looked and smiled at my Land Rover and said "aziza", which, in the Arab language, means "nice" and is an adjective used for young, handsome and attractive girls. In this way is born the series of Azizas.