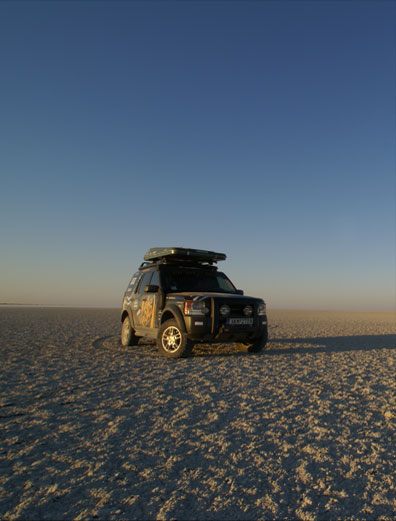 Another otherworldly landscape: Magkadigadi salt pans in the
Kalahari desert, Botswana.
"Maggiolina was our little home.
We still miss it!"
"Life on the road is hard but wonderful", Vula says.
"These were the best years of our lives. We hope we can live something like this in the near future", says Akis, who still can't get used to everyday life.
Akis and Vula had a restricted budget. They could survive for years with no more than 60 euros per day, all expenses included. "Our Land Rover was our third companion around the world and the Maggiolina was our little home. We still miss it", the two travellers say.
Maggiolina was an essential part of the expedition as the travellers spent more than 700 nights in it. This means two years in all!
Most of these nights are unforgettable. The Maggiolina was used in diverse conditions, between Sahara dunes, in African villages, on the assassin mountains of Iran, downtown Mumbai or in American petrol stations! "We spent so many nights in our beloved Maggiolina but we remember most of them because every one had a different view next morning", Vula says. Akis remembers some extremely hot nights in Pakistan with 37 degrees C and freezing ones with -10 in Tierra del Fuego. Furious winds blowing at 120 km/h in Patagonia, the Australian sun, and wild Indian monkeys where some of the real life tests for the rugged Italian tent that still works perfectly!
Free camping on the forest road
across Laos.
Our trip across Vietnam was sometimes
underwater...
"Telos", means the end in Greek. The last time we slept in our Maggiolina.
Driving at the most remote areas of
Mozambique.
Camping next to wild elephants,
in Chobe national park, Botswana.
Driving around the Meroe pyramids,
in Sudan.
Just arrived in Australia after long quarantine car checks, in Fremantle.
Deep in the jungle of Cameroon,
looking for pygmy people.
Attending the traditional Loi Krathong
festival in Chiang Mai, Thailand.
Satellite communication in the middle of the Sahara desert, near Atar, Mauritania.