The Worlds First - dating back to 1958.
For everyone, not only for those who turned travel and outdoor life into a passion, "Maggiolina" and "Air Camping" are an historical synonym for roof tents. An original Italian invention from 1958 (see historical leaflet) the Autohome vehicle roof top tent has been the companion of adventurers, explorers and travellers around the world for well over fifty years. The extraordinary intuition of that time, based on the newly born mass car-tourism market, identified a sense of freedom and independence and offered the greatest possible luxury as the basis of its well deserved success in the world market.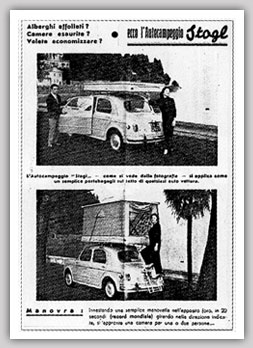 "Sleeping, ok. But how? And where?
An idea came forth: "...why not attach the tent on the roof of the car..."? The following question was a natural response: yes, but how?"
In mechanics there are countless solutions. It was just a case of understanding which one to adopt. Between the end of 1957 and March 1959 there had been two innovative interpretations of the same idea: vertical lifting tent and the lateral hinged folding tent.
Almost contemporary, the first one – even if just for a while – was the ancestor of the current "Maggiolina" (called "Autocampeggio Stogl" in its first version, from the name of its creator); patented between 1957 and 1958, only a few months before "Air Camping", the folding fabric roof tent by Giuseppe Dionisio (an inventor and designer also known as Gidion) who obtained the relevant patent in 1959.
Between the shell model and the folding fabric model there was no immediate competition, they were even lauched on the same stand at two exhibitions in 1959, first in Milan and then in Cuneo. Both "Maggiolina" and "Air Camping", as they were named, with their extraordinary ingenuity were a huge success at the time, thanks to technical innovations that remain almost unchanged throughout over 50 years of production, travel and history.
Despite the commercial aspect concerning ownership which followed, the "Air Camping" model – which was easier to manufacture in terms of build and production – gradually attracted the attention of the public, finally entering the myth of adventure and extreme camping thanks to the historic adventures of Nino Cirani.
This innovative outdoor lifestyle accessory was then being built - under Italian manufacturing licence - in many different countries, including: Brazil, Canada, France, Germany, USA and Great Britain.
At first, the roof tent represented an inexpensive alternative to independent travel, however as time passed, it became an essential travel accessory, to such an extent that the manufacturing company of the time decided to create "Autohome", a brand created and manufactured in Italy that now includes seven styles of roof tents, "Maggiolina", "Air Top", "Columbus", "Overland", "Overzone", "Overcamp" and "Air Camping", with well over 50 models available to choose from, plus accessories to suit all requirements.
Unquestioned equipment for adventure tourists, professionals and lovers of the great outdoors, Autohome is synonymous – today as in the past – with the adventurers who made history.
Autohome is the history of roof tents...