Air-Camping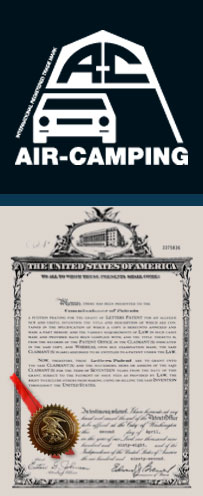 Air-Camping is 'the' fabric roof tent. Originally patented in 1959, and since 1961 has held an International Brand Patent.Sometimes it happens that a company brand is so well-known that the name refers to an entire product category (the vacuum cleaner for example).
For a few years the name Air-Camping has been wrongly used to refer to the fabric tent, of any style, type or origin. In reality the Air-Camping fabric tent is just the one manufactured by Autohome and still made according to the original design and manufacturing processes. A design must manufactured in Italy as defined by a high executive of the purchasing department of a famous car manufacturing company. Air-Camping is a unique branded product: fitted with wind-proof windows (for silent nights) easily opened from inside the tent, a mid grey fabric roof with dark blue side panels and yellow mosquito netting protection. Exactly the same colours requested by Nino Cirani, and used for 30 years on his famous vehicle based raids and expeditions.
Buying an Air-Camping tent, you get a guaranteed quality based on over 50 years experience and use in deserts, jungles and ice caps, where the product has performed faultlessly.
No marketing strategy required, just proof of a long-lived pedigree of surviving in the field.
Air-Camping: to live a magical adventure to the full.