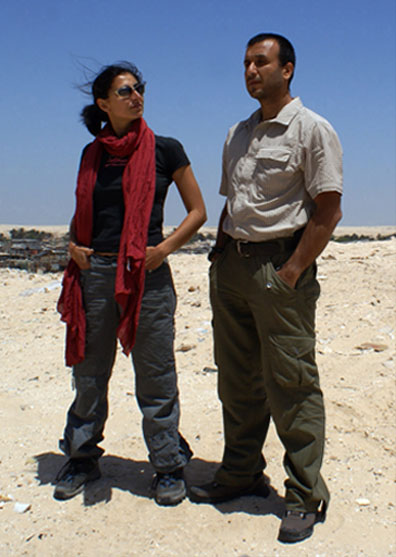 Nouadhibou, Mauritania, 2007. The African adventure was beginning.
"It seems a crazy project
but if you really dream it,
you can make it"
Akis Temperidis and Vula Netou are from Thessaloniki, Greece. Before departing
for their trip around the world, he was editor in chief at 4TPOXOI, the best seller car magazine in the country and Press Officer at the Acropolis Rally. Vula was a dancer and choreographer working as a teacher and performing at dance theaters in Athens.
Akis had an illustrious career as a journalist. He was testing the best supercars in the world, taking exclusive interviews from top personalities (Giugiaro, Ecclestone, Ghosn, McRae, Peterhansel among others) in the industry, he attended world rally and F1 events, he followed twice Dakar rally in a car, participated in different Camel Trophy and Marlboro Adventure events ('90, '91, '93 & '95) and he was racing cars and motorcycles for several years.
Akis had a dream to travel around the world for years. He shared it with Vula during a motorcycle trip in Italy in 2001 and since then never stopped dreaming about it. In 2005, they decided to leave their everyday jobs and get dedicated to their project, which they named
The World Off Road. Thanks to the support of 4TPOXOI and other sponsors in Greece they managed to buy, equip their Land Rover Discovery3 for the expedition, fix a Maggiolina Extreme Forest on top and finally hit the road in April 2007.
"It seems a crazy project but if you really dream it, you can make it", they say now, while living and growing up their child in Emilia Romagna, Italy.
Akis Temperidis
21 March 2013
Vula was the cameraman of the
expedition.
One of the most epic routes was towards Ladakh, up on the Indian Himalaya.
Lost on the Iranian mountains.
Found later by hospitable locals...
Akis took more than 150.000 images
during the trip.
Driving on 4.500 mts. Under the
imposing Cotopaxi volcano, Ecuador.
We crossed many otherworldly
landscapes: one was Pinnacles area,
Western Australia.
Patagonia was the last frontier for the Greek couple.
Sunset in Patagonia, right before embarking for Africa.
The Land Rover Discovery3 had
many offroad adventures.
Akis happy to cross the "death road"
in Bolivia.
Facing problems on a high sand dune
near M'Hammid, Morocco.
Happy to arrive at Finke National Park, near Alice Springs, Australia.
Crossing America through the
glorious Route 66.
Following the coastal road in Goa, India.