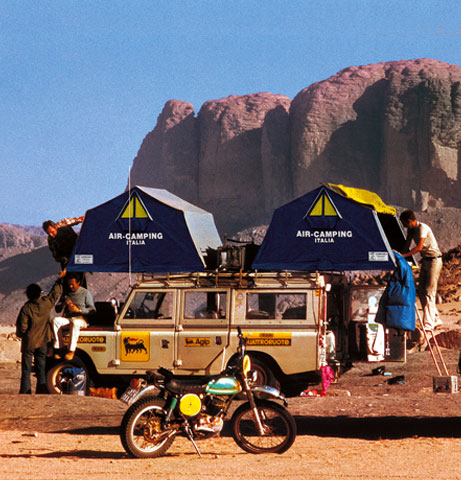 "Here cross-country driving is completely impossible. For 34 days, we travelled on mule tracks at an altitude of 4.000 metres, always on the edge of the precipice. The smallest mistake would have been fatal."
Alaska - Land of Fire: it is the longest route that one can make on the Earth.
It is a ride from the extreme North to the extreme South, a journey across all the
latitudes, from the ice of the Arctic to the ice of the Antarctic, through all the climates, from the arctic to the equator, across all altitudes, from 80 metres below sea level, in the Valley of Death to 5.000 metres in Peru and Bolivia.
By force of zigzagging in and out the different countries, we had to undergo a good 64 customs checks. Also this, I think, is a record for a single journey.
Urus women crushing and milling maize
between two stones.
The village is built on a floating island
on Lake Titicaca, Peru
India from Txcahamei tribe in Mato Grosso in Brasil
Great Undertakings on a Reduced Scale
In 1970, the adventures of Nino Cirani aroused the interest of Mebetoys, which reproduced Aziza on a 1:43 scale, equipping it not only with doors, bonnet and hatchback that could be opened, but also with all the relevant equipment fitted. On its roof, beside the additional spare wheel, there is the Air-Camping tent. The Land Rover of the "Trans-American Tour" is still in demand by customers today, and is available in the BBurago catalogue both on a 1:43 and on a 1:24 scale.
Nevertheless what we found in the hinterland re-paid us for the dangers, for the efforts, for the fords we crossed, and for getting stuck in the mud: Titicaca Lake, the Urus Indians on their floating islands, the Indians of the Andes in Peru, the very high mountains covered with ice, the huge expanse of the "puna" of Bolivia, empty and swept by the wind.
And the colours of the Indians, the colours of the landscape and the colours of the wide skies.
Huaitiquina crossing point in the Andes between Argentine and Chile at 4350m altitude
The frontier between Chile and Argentine
in the Andes at an altitude of 4300m.
Nino Cirani - Ande.