A complete range of matching accessories
for a comfortable stay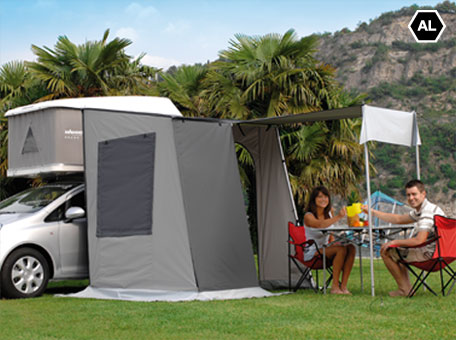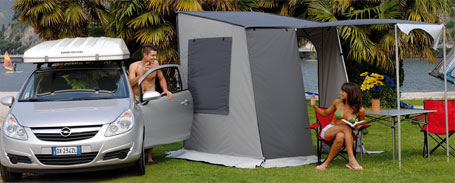 Verandah (for cars)
Art. M/05A - cm 200x160x h 240
Quick and easy to assemble it protects you from inclement weather conditions.
Provides a spacious sheltered area for cooking, eating, sleeping or storing your essential holiday equipment. An extremely popular, independent structure allowing you to drive away leaving your equipment well protected.
The framework is constructed from round anodised aluminium poles.
Changing Room

Changing Room (for cars) Art. M/12A – cm 140x170x h 170
Changing Room 4x4 (for vans and 4 wheel drives) Art. M/13A – cm 140x170x h 220

The Changing Room offers high level of privacy and protection.
A supplementary room closed on all four sides. Adjustable Aluminium Poles, provide a quick and easy connection to Maggiolina Roof Tents. The framework consists of round anodised aluminium poles.
Awning

(Art.M/11A) - A quick protection from sun and rain.
The framework consists of round anodised
aluminium poles. It measure 200x160 cm.

The Awning and the Changing Room can be attached to either side of the tent or one on each side, for an even more comfortable holiday.

Feet

(Art. M/09A) - Four strong feet allow you to place Maggiolina on the ground if desired. Measuring 25 cm high, keep at a safe distance from ground humidity, water, insects, stones. Foldable, clutter free and easy to install in the desired position.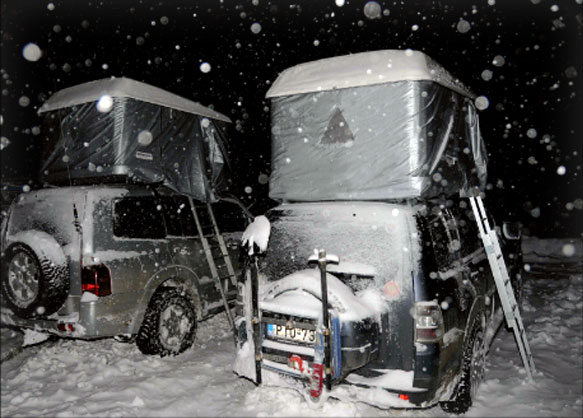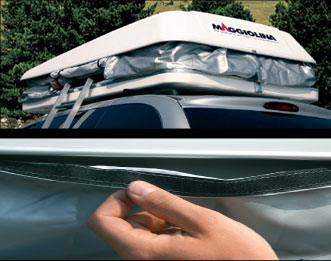 Solar reflective and Winter hood
(Art. M/10A) - Made of resin bonded nylon fibre and aluminium powder.
Excellent protection from the burning effect of the suns rays, and equally useful for extra insulation in colder conditions. Quickly attached, by Velcro strips, and removed, it can also provide additional protection in the most extreme of conditions. Can be left in situ when closing the tent.
Universal Accessories
Air Circulation System

Space saving kit

Art. acs-3d

New accessory to be positioned underneath the mattress. Made from a lightweight (450g/m2) woven polypropylene it's semi elastic and allows a free flow of air between tent base and mattress, increasing ventilation and reducing the chance of condensation. The lightweight mesh construction is compression resistant (1 ton/ m2) and is available in three sizes to fit all models of roof tent: Small (cm 120x210), Medium (cm 140x210) and Large (cm 160x210).

Art. k/15A

Garage accessory: pulley system that allows all models of roof tents to be raised from the vehicle for storage.
Rolling Top
Art. R/TOP Small cm 180x180
Art. R/TOP Medium cm 220x225 (estension)

Awning with built in supporting legs that's easily installed to roof racks. Practical and always ready to use, it creates a simple and effective shelter. Also indicated for journeys and safaris.

Supporting element for awning coupling to be applied to roof rack.

Box made of anodized aluminium available in two sizes: length cm 180 or cm 220.

The vertical stakes made of anodized aluminium are self-supporting and easy to use.

The transversal stakes made of anodized aluminium are provided with automatic adjustment, which allows to obtain a perfect stretching of the fabric.

A comfortable shelter from bad weather, an accessory allowing to have supper in the shade, to cook and completely relax.

Appreciated by the most experienced persons in the field, it is an indispensable accessory to be utilised in travel pauses. A practical and rapid shelter allowing to have a shaded area in full desert.
Racks designed and manufactured thanks to the long Brunatti's
experience gained during several trips to the Sahara desert
All people being fond of technical materials know this extraordinary, so called Ergal alloy.

Ergal consists of aluminium and zinc, it is mainly used in aeronautic structures, means of transport and generally in parts being subject to particular stress.

For instance, a special Ergal type can reach a yield strength of approximately 1200 Mpa.

Our bars are handcrafted with extreme care in every detail, they are made from aeronautic stainless steel and equipped with Ergal anchors, stainless steel bolts and self-locking Schnorr washers, in order to achieve total safety conditions.

Visit www.brunatti.it for more details