What does water column mean?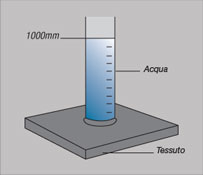 A water column indicates the pressure in millimetres that can weigh heavy on the fabric before the latter allows water to seep through. The value is utilized to indicate the resistance to a water seepage of tents, cloth, items, etc. ... The higher the water column value is, the better the fabric breathability is.
Anyway, too high waterproofing values also mean lower breathability. Water does not seep through PVC or nylon tents, but when people move inside or after some hours of sleep, people start sweating/will slowly be in a sweat, even worse if the ouside air temperature is rather low.
For example, imagine you sleep or stay in a lorry body equipped with tarpaulin: even if there are of course air intakes or other openings, you cannot breathe deeply, nor live in a fresh, healthy environment. In addition, the water vapour and body heat transfer speed is a very important factor, which has not to be forgotten.
To sum up, an highly breathable fabric having high water column values and low water vapour transfer values can be utilized to produce lorry tarpaulins, tent floors, roof awnings, rucksack & wheel covers and anyway when the brethability factor is of no influence.
See also the special extract (Fabric Characteristics) about the matter in " General use and maintenance rules", which are an integral part of the product.